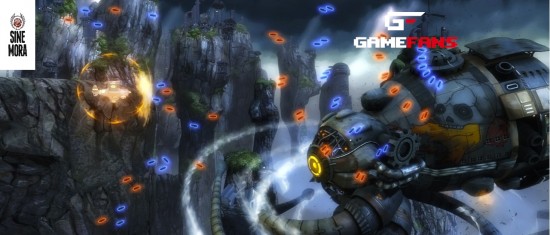 Coming straight out of Budapest, Digital Reality and Grasshopper Manufacture have announced in a press release what they call "one of the greatest shmups to come to this console generation". Sine Mora breaks away from its XBLA shackles and brings with it all the lasers, bullet-time, power-ups, and epic boss shoot outs.
Balázs Horváth, director of publishing at Digital Reality, is as excited about the forthcoming PSN release as we are. Maybe for the right reasons, or maybe for the bottom line.
After having an extremely successful launch on Xbox LIVE Arcade and revealing the Vita version at E3 to much appraise, we're as excited as ever to bring the experience to yet another platform. More important than anything, we created something we love, and we know Sine Mora be loved yet again on PlayStation 3.
Sine Mora will come to PSN packed with clean graphics and 60+ combinations of aircraft, character, and time manipulation toys to best even the hardest levels. To make the announcement even juicier, the press release mentions that its also coming to PS Vita.
We all know that PSN could definitely benefit from a larger selection of shmups and it doesn't take an arcade vendor to see its lacking in the genre. And what is there could use some competition. We are looking forward to any sign that Sine Mora will be a "cross-purchase" title, gifting both the PS3 and Vita copy for the price of either one.
Is Sine Mora an instant purchase for you with or without the hope of a "cross-purchase"? Let us know about your purchasing intentions in the comments below…