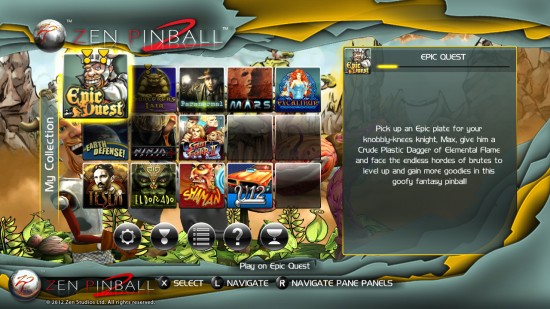 A recent press release has revealed that Zen Studios is releasing Zen Pinball 2 as a free of charge upgrade to those gamers who may have already purchased the original Zen Pinball or Marvel Pinball. The details therein may confuse some, so allow us to reveal the meaning behind all the confusion.
When Zen Pinball 2 launches onto PlayStation consoles on September 4, it will basically replace both Zen Pinball and Marvel Pinball. By doing so, it will become the Zen Pinball hub whereby all tables can be accessed; be them the stock tables from Zen Pinball 1 and Marvel Pinball or any of the downloaded tables. You will also be able to see the rest of their stock of available tables in case you choose to expand your selection.
Now, if you do not own either Zen Pinball 1 or Marvel Pinball, then you can buy Zen Pinball 2 and purchase any of the downloadable tables. Also, when you buy either the the PS3 or Vita version of Zen Pinball 2, you'll also get the other one at no additional cost. They are calling this cross-entitlement now, previously referred to as cross-purchase. Either way you call it, its a deal!

On Xbox Live Arcade, its called Pinball FX 2 and its been available for quite some time. The XBLA and PSN versions will be receiving a new table themed after a yet-to-be-announced uber-popular PopCap Games title. We're thinking Plants vs Zombies would make for a very entertaining pinball table. But fans of PopCap Games knows that their most popular franchise is Bejeweled. The true title will be revealed at PAX Prime which runs August 31 to September 2.
Which of PopCap Games' properties do you think would make for a fun pinball table? Get to typing in this here comments section.