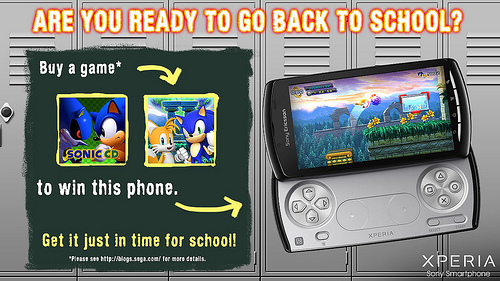 The house that made Sonic knows the woes all you young ones have about this time of year. Lord knows I remember those days of dread when the end of August started rearing its ugly head and I still hadn't read my summer reading. Well Sega would like to try and ease a little bit of that anxiety with a "Back to School" sale that I am sure any teacher and parent will fully support.
Select Android/iOS mobile titles are available for up to %50 off and as a thank you to the loyal fans, Sega is offering a chance to win a Verizon Xperia Play for all those who spend more than $4.95 (iOS/Android) on Sega Mobile games. All you need to do is email the receipt and some info and you are eligible. For more details about to enter to win the phone, click here for complete rules.
Is there a better way to go back to school then with something that will keep you from paying attention even more in class like a Xperia Play will? We didn't think so…
Here is the complete list of titles on sale:
Sonic CD™ (iOS/Android) – $2.99 (from $4.99)
Sonic the Hedgehog 4™: Episode II (iOS/Android) – $4.99 (from $6.99)
Streets of Rage™ 2 & 3 (iOS) – $0.99 (from $2.99)
Golden Axe™ 2 & 3 (iOS) – $0.99 (from $2.99)
Gunstar Heroes™ (iOS) – $0.99 (from $2.99)
Virtua Fighter™ 2 (iOS) – $0.99 (from $1.99)
Altered Beast™ (iOS) – $0.99 (from $1.99)
For more details about the sale, visit the SEGA blog.