Today was supposed to mark the launch of the Wikipad, an Android gaming tablet that snaps into a full featured control dock to offer an integrated gaming experience. When connected, it looks like a tablet perfectly designed for gaming that can be detached and used as a regular tablet. But at $500, you have to wonder why Wikipad wouldn't offer the gamepad as an accessory sold separately at a premium (when not bundeled with the tablet).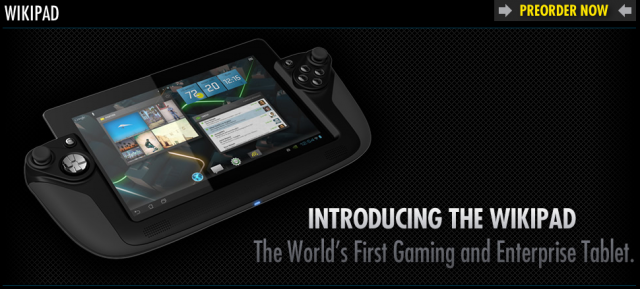 That seems like a moot point, at least for the moment, since neither the Wikipad or the accompanying gamepad have launched today, their designated launch day. The Wikipad was to be sold exclusively by GameStop, but numerous calls to locations around the United States have all yielded the same results: GameStop simply doesn't have units in stock and no shipments are on the way.
Even worse, although Wikipad's website specifically provides a "pre-order" button, GameStop has since disabled the ability to pre-order the device with a simple greyed out "Not Available" button.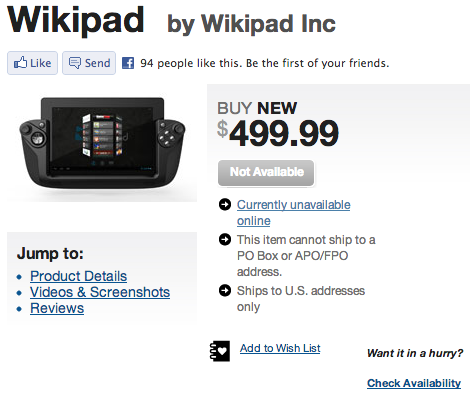 It's fair to assume the Wikipad is delayed, but perhaps worse, it could be delayed indefinitely. Several of the GameStop stores to which we spoke said they hadn't received any pre-orders, so lack of demand could mean these devices never went into full production, or that GameStop isn't comfortable fulfilling/ordering a product without proven demand. The "indefinite" bit is speculation on our behalf, but this wouldn't be the first time an Android device was cancelled.
It's a shame, too, because the Wikipad looked like the ultimate gaming device and the tablet itself had some pretty strong specs:
Android 4.1
1.4GHz Tegra 3 Processor
10.1-inch screen with 10-point gestures for multi-touch
1GB internal memory, 16GB Flash memory, 32GB expandable SD card
WiFi, Bluetooth, Gyroscope, Accelerometer, etc…
3.5mm headset jack
HDMI out
8MP camera (rear), 2MP camera (front)

Those specs, complete with the Wikipad Gamepad, sound like a pretty great deal for the $499 pricetag. Of course that depends on how the gaming experience ends up in reality, but to judge that, we'll need these bad boys to actually become available and start shipping.
We've reached out to both Wikipad and Gamestop for an official update but have yet to receive a response.