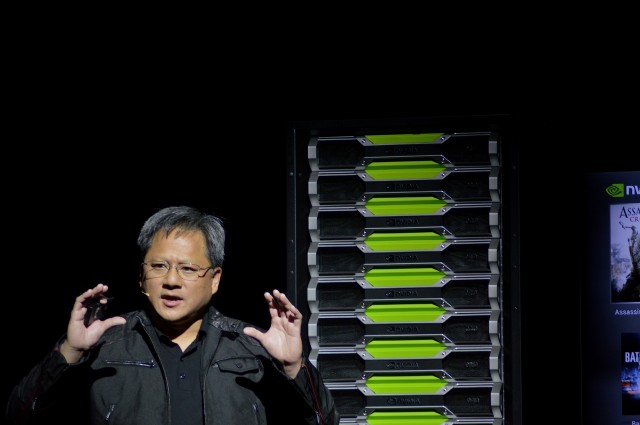 We are live at CES 2013 and there is one booth gamers must check out before they venture on to other adventures – NVIDIA's. The gaming leader surprised all of us with the NVIDIA Shield and their NVIDIA Grid Cloud Gaming platform. We weren't able to play with the Shield just yet (we will soon!), but we played with the Grid Cloud Gaming and must say it is a beast!
As gamers, the one worry about cloud gaming is latency. I mean, it takes time to send the commands to the phone, then from the phone to the servers, then from the servers send video back to the phone. But surprisingly, NVIDIA's Grid was working flawlessly. There was literally no noticeable latency. It is insane.
You can take a look at the servers in the image to the right. My friend Chris Chavez is 6'2″, so you an get an idea of the size. These server stacks are running with NVIDIA's kepler technology, and is 36 times better than first-generation cloud gaming.
You know I am a huge believer of cloud gaming, and believe it will change the future of gaming. I mean, a console quality game running on a smartphone? A console-less TV? And… a Mac?! NVIDIA is getting things set to release this service to the public, but we have no details just yet. For now, NVIDIA is shopping it around, but we will definitely get back to you when we know more. And of course, when we play around with the Shield!
Check out the videos and let us know what you think! What do you say? Do you believe in cloud gaming now?