There's nothing I love more than seeing indie game devs take elements from their favorite games, twist them around, mix in their own creative juices, and come up with something itself completely original. That's what it seem like Ray Benefield has done with his game, Aggro Tactics, coming out for OUYA in March.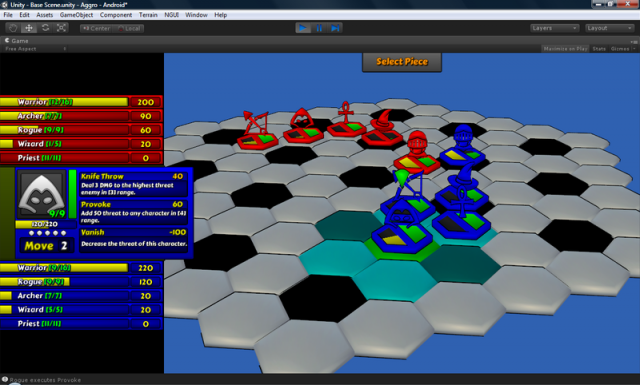 The game combines is described as a chess-like tactical RPG strategy, incorporating simultaneous turns, prioritized execution systems, and great depth in possibilities and options. As you can see above, gameplay takes place on a hexagonal chess board with your own customized army of pieces. You can select from Wizards, Warriors, Rogues, or other unit types each with their own levels of Hit Points, Threat, Action Points, Movement Speed, and actions.
The concept is intriguing and has potential, but the success will most certainly depend on how it looks, feels, and plays. When games rely so heavily on algorithms in multi-player mode, even slight imbalances can cause unintended circumstances that render the game unenjoyable. Hopefully Aggro Tactics launches with a nice balance of game play.
Ray calls himself "an aspiring Game Designer with some slight skills in programming." Hopefully he plans on touching up the design of Aggro prior to launch: at first glance, the colors seem harsh and overwhelming. It's quite possible the current focus is on general design and game play with the polish and touch-ups coming after the heavy lifting. We'll ask Ray about final design possibilities and what users can expect… keep an eye out for updates to this article or comments below.
Are you a chess player who can see yourself rocking out to one of these multi-player morphs of the traditional board game experience?
[Via OUYAboards.com]