Way back in 1993, Bluemoon spent three months creating a game called SkyRoads. The game became an instant hit, with equally beautiful simplicity on the side of graphics and gameplay. Spacebar jumps, left and right moves, up accelerates, down brakes; it's a set of controls to which we've grown accustom. For longtime gamers, SkyRoads won't soon be forgotten, and if Wurd Industries has any say in the matter, both newb and veteran gamers alike will see SkyRoads live on in the company's "remake of the retro DOS game" called SkyRoads.
Here's an early beta of the game running on OUYA dev:
It looks great. Functionality? Not so much… but it looks great. You've got to appreciate the developer's honesty in assessing that the OUYA controller wasn't working properly with the game, indicating the company still has a bunch of work to do. Alternatively, he could have admitted he simply sucks terribly at his own game, but I'm unsure which admission would be the worse of the two.
It's hard to get an idea of the graphics quality through the above video, but take a look at a screencap from one of the levels the Wurd team is currently designing/developing: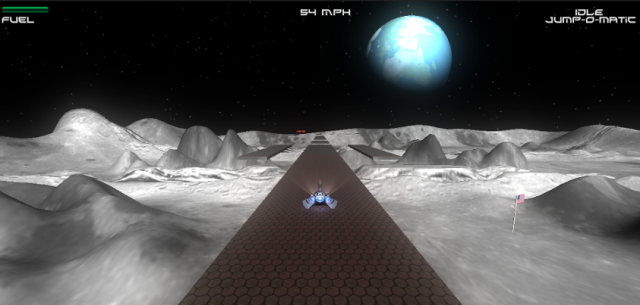 I'm liking the looks of that.
In the demo video, they also request ideas for the game, both visually and in terms of gameplay. With a couple months still left before the OUYA's launch, now would be a great time to jump in and provide your thoughts and opinions.  How about a GameFans themed  level with rolling green hills, vibrant trees, and cascading waterfalls, all done in 8GB retro style graphics? Yup… that's our suggestion!
Stay tuned for SpaceRoads on OUYA as it's looking to be one of the hottest retro-style games to land on the console for launch!
[Discuss on OUYAboards | @WurdIndustries | WurdIndustries.com]