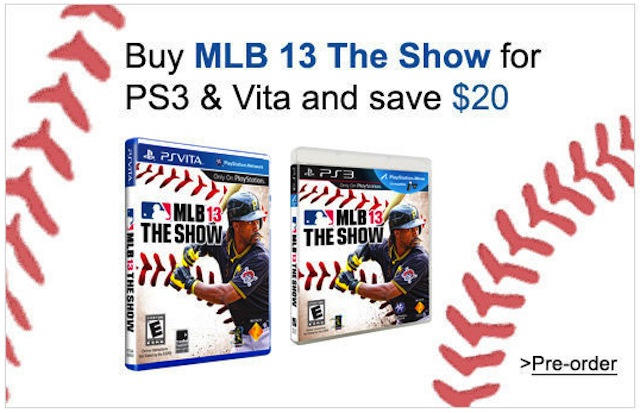 In what seems to be the strangest move since not slicing a loaf of bread, Sony is not offering MLB 13: The Show as a Cross Buy game. Instead, gamers must choose whether to play on PS3 or Vita. Those who insist on owning both versions can take advantage of a slight savings at the retailer level including $20 off.
Amazon is one such retailer offering MLB 13 at such a scrumptious savings. And $20 off is exactly half off the Vita game. To get the savings, there are a few things you must do. First of all, and most importantly, go to Amazon to seek out this bountiful bargain. This is where you can feast your eyes on the following list of demands:
Add both MLB 13 PS3 and Vita to your Shopping Cart.
Your shopping cart must include at least one copy of MLB 13: The Show(PS3) and one copy of MLB 13: The Show(PS Vita)during the checkout process to qualify for this promotion.
On the final checkout page, Amazon will apply a $20 discount to your order.
Offer valid when products are shipped and sold by Amazon.com, through March 4, 2013.
Amazon reserves the right to change or terminate this promotion at any time.
This deal is only good until March 4th as the instructions indicate. Does this deal entice you to pre-order MLB 13: The Show from Amazon or are you upset by the no Cross Buy promotion given the cross support of both titles?