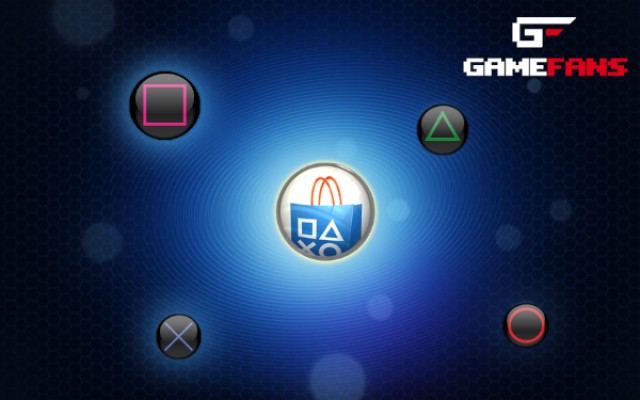 The US PlayStation Store update is now LIVE.
The GameFans weekly update is here to share the news about more new games, demos, and add-on content than you can shake a SIXAXIS at. With platforms such as PS Plus, PSN, PS One/PS2 Classics, minis, PlayStation Mobile, and Day 1 Digital on PS3 and Vita, there is something for everyone.
---
PlayStation All-Stars Battle Royale adds Kat from Gravity Rush and Emmett from Starhawk, both free downloads for one week only. Also available for PSASBR is the Heavenly Sword level for just $1.99 and a metric ton of new minion characters, each for $0.49 with two free within the update.
Alien Breed comes to PS Plus subscribers for $7.99 reduced from $9.99. It also is a Cross-Buy game netting purchases both the PS3 and Vita versions for one price. Same can be said for Table Pack 7: Scared Stiff and Big Shot, and so far I'm loving Scared Stiff.
Remember Twisted Metal, the David Jaffe joint featuring the now iconic PlayStation All-Star Sweet Tooth. For only $39.99 you can download the Twisted Metal Birthday Bundle featuring Twisted Metal 1 (PS One), Twisted Metal 2 (PS One), Twisted Metal Black (PS2), and Twisted Metal (PS3). Take a look at the full update below: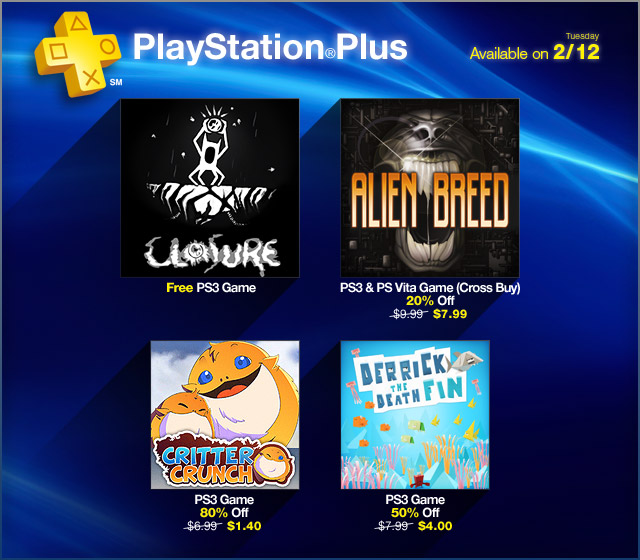 PS PLUS – Plus Subscribers Only

PS3 Instant Game Collection:

Vita Instant Game Collection:

PS3/PSN Discounts:

$1.40 – Critter Crunch (reg. $6.99)
$7.99 – Alien Breed – Cross-Buy PS3/Vita (reg. $9.99)
$4.00 – Derrick the Deathfin (reg. $7.99)
$38.39 – NHL 13 (reg. $47.99)

Vita Discounts:

$7.99 – Alien Breed – Cross-Buy PS3/Vita (reg. $9.99)

PLAYSTATION 3 CONTENT

New PS3 Bundles:

$39.99 – Twisted Metal Birthday Bundle – PS One/PS2/PS3 (16.2 GB)

New PS3 Full Games:

FREE – Everybody Dance: Digital (202.9 MB) (songs sold separately)
$29.99 – Persona 4 Arena (6 GB)

New PSN Games

$9.99 – Alien Breed – Cross Buy PS3/Vita (274.1 MB)
$9.99 – Yu-Gi-Oh! 5D's Decade Duels Plus (395 MB)

PS One/PS2 Classics:

$5.99 – Twisted Metal – PS One (71.9 MB)
$7.99 – Twisted Metal Black – PS2 (3.6 GB)
$9.99 – Rebel Raiders Operation Nighthawk (389.4 MB)

Demos:

Yu-Gi-Oh! 5D's Decade Duels Plus (395 MB)
Page Chronica (561.3 MB)
Big Sky Infinity (350.5 MB)
Dynasty Warriors 7 Empires Edit Mode Demo (1.4 GB)

Price Changes/Sales:

$4.99 – Alien Syndrome – PS3 (reg. $9.99)
$2.99 – Amy – PS3 (reg. $9.99)
$11.49 – Alien Breed Trilogy – PS3 Game (reg. $22.99)
$4.99 – Beyond Good and Evil HD – PS3 (reg. $9.99)
$19.99 – Catherine – PS3 (reg. $39.99)
$7.49 – From Dust – PS3 (reg. $14.99)
$7.49 – Might and Magic: Clash of Heroes – PS3 (reg. $14.99)
$47.99 – NHL 13 – PS3 (reg. $59.99)
$4.99 – Rayman 3 HD – PS3 (reg. $9.99)
$4.99 – Scott Pilgrim vs. The World The Game – PS3 (reg. $9.99)
$29.99 – NBA 2K13 – PS3 (reg. $59.99)
$0.49-$12.99 – NBA 2K13 – PS3 Add-on various
$14.99 – The King of Fighters XIII – PS3 Game (reg. $29.99)
$0.99-$6.99 – The King of Fighters XIII – PS3 Add-On – various
$4.99 – Twisted Metal – PS3 (reg. $39.99)
$4.99 – Twisted Metal 2 – PS3/PSP/Vita (reg. $5.99)

New Add-On Content:

$29.99 – Aliens: Colonial Marines – Season Pass

$1.99 – Dragon's Dogma – A Boon for Wanderers Bonus Pack

$9.99 – Elder Scrolls V: Skyrim – Dragonborn (Launch Week Sale)

Everybody Dance

$2.49 – Where Love Lives by Alison Limerick
$2.49 – I Need A Dollar by Aloe Blacc
$2.49 – What the Hell by Avril Lavigne
$2.49 – Larger Than Life by Backstreet Boys
$2.49 – Bingo Bango by Basement Jaxx
$2.49 – Achy Breaky Heart by Billy Ray Cyrus
$2.49 – Daddy Cool by Boney M.
$2.49 – Video Killed The Radio Star by Buggles
$2.49 – Word Up! by Cameo
$2.49 – Gypsy Woman (La Da Dee La Da Da) by Crystal Waters
$2.49 – Jean Genie by David Bowie
$2.49 – Bass Down Low by Dev feat. The Cataracs
$2.49 – Come On Eileen by Dexy's Midnight Runners
$2.49 – Days Go By by Dirty Vegas
$2.49 – Street Tuff by Double Trouble & the Rebel MC
$2.49 – Rio by Duran Duran
$2.49 – Guns and Horses by Ellie Goulding
$2.49 – Outta Here by Esmée Denters
$2.49 – Changed The Way You Kiss Me by Example
$2.49 – Take Me Out by Franz Ferdinand
$2.49 – Let me Think About It by Ida Corr vs Fedde le Grand
$2.49 – Bailando por ahi by Juan Magan
$2.49 – No sigue modas by Juan Magan
$2.49 – Dreamer by Livin' Joy
$2.49 – Electric Boogie by Marcia Griffiths
$2.49 – Dancing In The Street by Martha Reeves & The Vandellas
$2.49 – Sing It Back by Moloko
$2.49 – Movin' On Up by M-People
$2.49 – Going Back To My Roots by Odyssey
$2.49 – Upside Down by Paloma Faith
$2.49 – I Like to Move It by Reel 2 Real feat. The Mad Stuntman
$2.49 – Never Gonna Give You Up by Rick Astley
$2.49 – Hey You (The Rocksteady Crew) by Rock Steady Crew
$2.49 – It's Tricky by Run DMC
$2.49 – Push It by Salt N Pepa
$2.49 – Keep On Movin' by Soul II Soul Featuring Caron Wheeler
$2.49 – 5,6,7,8 by Steps
$2.49 – Walk Like An Egyptian by The Bangles
$2.49 – Brick House by The Commodores
$2.49 – ABC by The Jackson 5
$2.49 – I Think We're Alone Now by Tiffany
$2.49 – Creep by TLC
$2.49 – Badman Riddim (Jump) by Vato Gonzalez Feat. Foreign Beggars
$2.49 – Unorthodox by Wretch 32 Feat. Example
$8.99 – Pack 9

Fist of the North Star 2: Ken's Rage

$2.99 – Fudo Original Costume
$2.99 – Juda Original Costume
$2.99 – Juza Original Costume
$2.99 – Ryuga Original Costume
$2.99 – Shew Original Costume
$2.99 – Skill Route 1
$11.99 – Raoh Chapter Original Costume Set

Guardians of Middle Earth

$1.99 – Radagast
$1.99 – Glóin

FREE – LittleBigPlanet – Valentine's Day Minipack

FREE – Ni No Kuni – Draggle Familiar Ticket

Pinball Arcade (All Cross-Buy with PS Vita)

$3.99 – Scared Stiff Pro Upgrade
$7.99 – Scared Stiff Pro Table Pack with Big Shot
$4.99 – Table Pack 7: Scared Stiff and Big Shot

PlayStation All-Stars Battle Royale (Cross-Buy PS3/Vita)

FREE – Gravity Rush's Kat
FREE – Starhawk's Emmett Graves
$1.99 – Heavenly Sword Level
$6.99 – Minion Super Pack 1
$1.99 – Minion Pack 1
$1.99 – Minion Pack 2
$1.99 – Minion Pack 3
$0.49 – Ape Escape's Professor Minion
$0.49 – Buzz!'s Buzz Minion
$0.49 – Escape Plan's Lil Minion
$0.49 – Fat Princess Ninja Minion
$0.49 – GoW's Colossus of Rhodes Minion
$0.49 – Hot Shots Golf's Suzuki Minion
$0.49 – InFamous's Lucy Kuo Minion
$0.49 – Killzone's Rico Minion
$0.49 – Sly Cooper's Carmelita Fox Minion
$0.49 – Twisted Metal's Mr. Grimm Minion
$0.49 – Uncharted's Elena Fisher Minion
$0.49 – Warhawk's Eucadian Soldier Minion
$0.49 – Toro's Kuro Minion
$0.49 – Jak and Daxter's Ashelin Minion
$0.49 – Starhawk's Logan Minion
$0.49 – Fat Princess Pirate Minion
$0.49 – GoW's Polyphemus Minion
$0.49 – Killzone's Visari Minion

Rock Band 3

$0.99 – A Single Drop of Red (The Gentleman) by Anarchy Club.
$1.99 – Angels and Demons by Melissa Otero
$1.99 – Glory of Love by Peter Cetera
$1.99 – Keep On Loving You by REO Speedwagon
$0.99 – Keep on Running from My Love by Danny and the Lost Souls
$1.99 – Love Hurts by Nazareth
$1.99 – More Than Words by Extreme
$1.99 – My Little Girl by Jerry Naylor
$1.99 – Naughty Naughty by John Parr
$1.99 – Tainted Love by Soft Cell

RockSmith

$7.99 – The Clash Song Pack
$2.99 – London Calling by The Clash
$2.99 – Should I Stay or Should I Go by The Clash
$2.99 – The Guns of Brixton by The Clash

$1.99 – Sleeping Dogs – The Law Enforcer Pack

Yu-Gi-Oh! 5D's Decade Duels Plus

$1.99 – Card Pack 01-10
$2.99 – Starter Deck 01-05

PS VITA CONTENT

New Games:

$9.99 – Alien Breed – Cross Buy PS3/Vita (274.1 MB)
$9.99 – Rocketbirds: Hardboiled Chicken (509.4 MB)
FREE – Ecolibrium (222.1 MB)

Add-On Content:

Ecolibrium

$0.25 – Bronze Game Box
$0.50 – Silver Game Box
$1.00 – Gold Game Box
$1.50 – Platinum Game Box

FREE – LittleBigPlanet PS Vita – Valentine's Day Minipack

PlayStation All-Stars Battle Royale (Cross-Buy PS3/Vita)

FREE – Gravity Rush's Kat
FREE – Starhawk's Emmett Graves
$1.99 – Heavenly Sword Level
$6.99 – Minion Super Pack 1
$1.99 – Minion Pack 1
$1.99 – Minion Pack 2
$1.99 – Minion Pack 3
$0.49 – Ape Escape's Professor Minion
$0.49 – Buzz!'s Buzz Minion
$0.49 – Escape Plan's Lil Minion
$0.49 – Fat Princess Ninja Minion
$0.49 – GoW's Colossus of Rhodes Minion
$0.49 – Hot Shots Golf's Suzuki Minion
$0.49 – InFamous's Lucy Kuo Minion
$0.49 – Killzone's Rico Minion
$0.49 – Sly Cooper's Carmelita Fox Minion
$0.49 – Twisted Metal's Mr. Grimm Minion
$0.49 – Uncharted's Elena Fisher Minion
$0.49 – Warhawk's Eucadian Soldier Minion
$0.49 – Toro's Kuro Minion
$0.49 – Jak and Daxter's Ashelin Minion
$0.49 – Starhawk's Logan Minion
$0.49 – Fat Princess Pirate Minion
$0.49 – GoW's Polyphemus Minion
$0.49 – Killzone's Visari Minion

Pinball Arcade (All Cross-Buy with PS3)

Scared Stiff Pro Upgrade ($3.99)
Scared Stiff Pro Table Pack with Big Shot ($7.99)
Table Pack 7: Scared Stiff and Big Shot ($4.99)

Rocketbirds: Hardboiled Chicken

FREE – HBC Agent-H Budgie Pack
FREE – HBC Sniper Budgie Pack

Price Changes/Sales:

$4.99 – Twisted Metal 2 – PS3/PSP/Vita (reg. $5.99)

Legacy PSP/PS One Classics:

$5.99 – Twisted Metal – PS One Classics

PlayStation Mobile Games:

FREE – Beat Trellis (20 MB)
$4.29 – Dungeon Bandit (37 MB)
$3.99 – Chimpact (86 MB)

PSP CONTENT

Price Changes/Sales:

$4.99 – Crazy Taxi: Fare Wars – PSP (reg. $9.99)
$6.99 – Crush – PSP (reg. $9.99)
$6.99 – Sonic Rivals – PSP (reg. $9.99)
$6.99 – Sonic Rivals 2 – PSP (reg. $9.99)
$4.99 – Super Monkey Ball Adventures – PSP (reg. $9.99)
$9.99 – Valkyria Chronicles 2 – PSP (reg. $19.99)

$9.99 – NBA 2K13 – PSP (reg. $19.99)

$4.99 – Twisted Metal 2 – PS3/PSP/Vita (reg. $5.99)
[via PlayStation Blog]