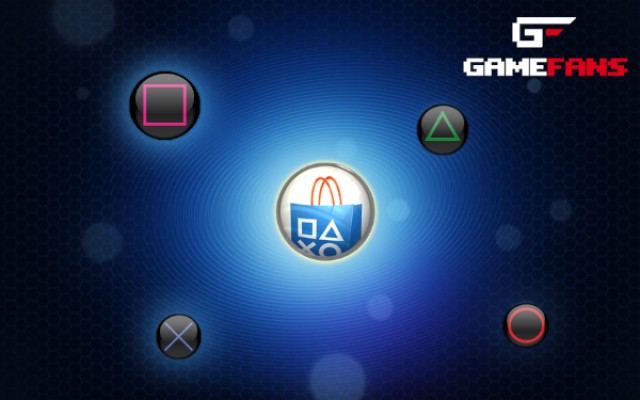 The US PlayStation Store update is now LIVE.
The GameFans weekly update is here to share the news about more new games, demos, and add-on content than you can shake a SIXAXIS at. With platforms such as PS Plus, PSN, PS One/PS2 Classics, minis, PlayStation Mobile, and Day 1 Digital on PS3 and Vita, there is something for everyone.
---
The big news today was a possible rumor leak on Kotaku about the PS4 pricing, availability and other details. November release and price of $429.99-$529.99 is all rumor and will be either disproved tomorrow or left alone until E3 when price will likely be the topic of discussion.
PS Plus subscribers now have full access to Vanquish as a digital download. Additionally, Mega Man Maverick Hunter X is available for Vita and/or PSP as part of the Instant Game Collection. Urban Trials Freestyle comes onto Vita and PS3 without Cross-Buy entitlement so you'll need to choose which one you want most or pay for them both separately.
Crysis 3 hits retail and PSN as a digital download. Go now and grab the Naruto Shippuden: Ultimate Ninja Storm 3 demo. Rage DLC sees an 80% price drop while Pinball Arcade gets a couple more Pro Mode options for previously released tables. These are not new tables but either upgrades to include the Pro Menu or just Table Pack 1 featuring Medieval Madness with the Pro Menu.
Take a look at the full update below: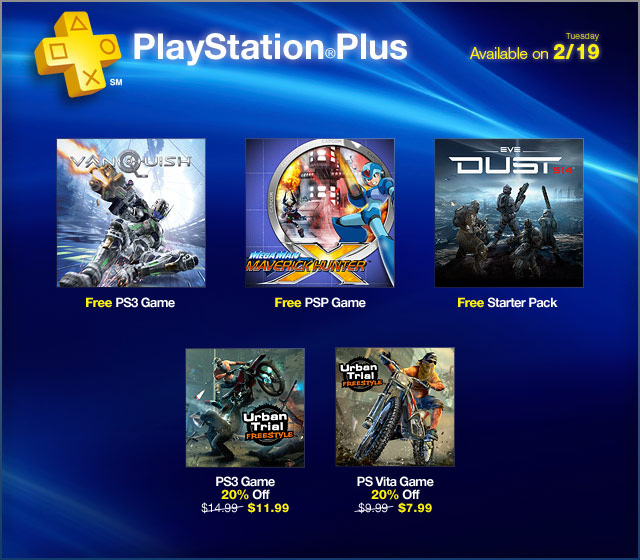 PS PLUS – Plus Subscribers Only

PS3 Instant Game Collection:

Vita Instant Game Collection:

Mega Man Maverick Hunter X – PSP/Vita

PS3/PSN Discounts:

$11.99 – Urban Trial Freestyle (reg. $14.99)

Vita Discounts:

$7.99 – Urban Trial Freestyle (reg. $9.99)

Exclusive Freebies:

FREE – DUST 514 Starter Pack (reg. $9.99)

PLAYSTATION 3 CONTENT

New PS3 Bundles:

$99.99 – Call of Duty: Black Ops + Season Pass (12.8 GB)
$14.99 – Smash Cars + Skyfighter (505 MB)

New PS3 Full Games:

$59.99 – Crysis 3 (5.5 GB)

New PSN Games

$14.99 – Urban Trial Freestyle (475 MB)
FREE – Capcom Arcade Cabinet (1.4 GB)

Demos:

Naruto Shippuden: Ultimate Ninja Storm 3 (1.3 GB)

Price Changes:

$1.99 – Rage: Rage Wastelands Sewer Missions (was $9.99)

Sales:

$4.99 – Sky Fighters + Trial (reg. $9.99)

New Add-On Content:

Assassin's Creed III

$9.99 – The Infamy (Free for Season Pass holders)

Devil May Cry

$1.99 – Weapons Bundle
$0.99 – Bone Weapons Pack
$0.99 – Gold Weapons Pack
$0.99 – Samurai Weapons Pack
Bloody Palace Mode

Guardians of Middle Earth

$1.99 – Snaga (Playable Guardian)

LittleBigPlanet 2 – LBP Cross-Buy PS3/Vita

$2.99 – Emergency Services Costume Pack
$0.99 – Firefighter Costume Pack
$0.99 – Paramedic Costume Pack
$0.99 – Police Officer Costume Pack
$0.99 – Search and Rescue Specialist Costume Pack

LittleBigPlanet Karting – LBP Cross-Buy PS3/Vita

$2.99 – Emergency Services Costume Pack
$2.99 – Emergency Services Karts Pack
$0.99 – Ambulance Kart
$0.99 – Paramedic Costume
$0.99 – Fire Engine Kart
$0.99 – Firefighter Costume
$0.99 – Police Car Kart
$0.99 – Police Officer Costume
$0.99 – Sea Rescue Dinghy Kart
$0.99 – Search and Rescue Specialist Costume

Pinball Arcade – Cross-Buy PS3/Vita

$7.99 – Add-on Pack 1: Medieval Madness and The Machine: Bride of PinBot
$3.99 – Pro Version Upgrade: Medieval Madness
$1.99 – Pro Version Upgrade: Tales of the Arabian Nights

Metal Gear Rising

$1.99 – Custom Body: MGS4 Raiden

Resident Evil 6 – $3.99 each

Onslaught Game Mode
Predator Game Mode
Survivors Game Mode

Rock Band 3

$1.99 – A Little Less Sixteen Candles A Little More 'Touch Me'
$0.99 – Black Rose
$1.99 – Dozing Green
$1.99 – One Week
$1.99 – Political Bum
$0.99 – Reaching Down
$1.99 – Shine
$1.99 – The Fractal Reason

Rocksmith – $2.99 each

Black Betty by Ram Jam
Carry On Wayward Son by Kansas
You Got Another Thing Comin' by Judas Priest

Yu-Gi-Oh! 5D's Decade Duels Plus

$1.99 – Card Pack 11
$1.99 – Card Pack 12
$2.99 – Structure Deck 01
$3.99 – Super Pack 01

PS VITA CONTENT

New Vita Games:

$9.99 – Urban Trial Freestyle (164.1 MB)

Demos:

Urban Trial Freestyle (165 MB)

Add-On Content:

Pinball Arcade – Cross-Buy PS3/Vita

$7.99 – Add-on Pack 1: Medieval Madness and The Machine: Bride of PinBot
$3.99 – Pro Version Upgrade: Medieval Madness
$1.99 – Pro Version Upgrade: Tales of the Arabian Nights

LittleBigPlanet 2 – LBP Cross-Buy PS3/Vita

$2.99 – Emergency Services Costume Pack
$0.99 – Firefighter Costume Pack
$0.99 – Paramedic Costume Pack
$0.99 – Police Officer Costume Pack
$0.99 – Search and Rescue Specialist Costume Pack

Ragnarok Odyssey

$0.99 – Archer's Apple
$0.99 – Bunny Hair Band
$0.99 – Floppy Cat
FREE – Gunslinger Outfit
$0.99 – Majestic Horns
FREE – Music Set 1
FREE – Music Set 2
FREE – Music Set 3
FREE – Ninja Outfit
FREE – Taekwon Kid Outit

Price Changes:

$1.99 – Rage: Rage Wastelands Sewer Missions (was $9.99)

Sales:

$7.99 – Rocketbirds PS Vita – For owners of PS3 version of Rocketbirds only (reg. $9.99)

Legacy PSP/PS One Classics:

$19.99 – Patapon 3 (615 MB)
$19.99 – Generation of Chaos: Pandora's Reflection (354 MB)

PlayStation Mobile Games:

FREE – OMG-Zombies (52 MB)
$0.99 – Popopo Garden (6 MB)
$1.49 – Tobipen (7 MB)
$0.49 – Castle Invasion (16 MB)

PSP CONTENT

New PSP Games:

$19.99 – Generation of Chaos: Pandora's Reflection (354 MB)
$24.99 – Hakuoki: Warriors of the Shinsengumi (1.1 GB)

Add-On Content:

$0.99 – Hakuoki: Warriors of the Shinsengumi (various DLC)
[via PlayStation Blog]