Recently, I had the pleasure of talking with Pascal Bestebroer, OrangePixel CEO, about developing for the OUYA. He has made a pretty diverse range of retro-inspired games that have garnered plenty of community praise. I learned a great deal including which OrangePixel games are coming.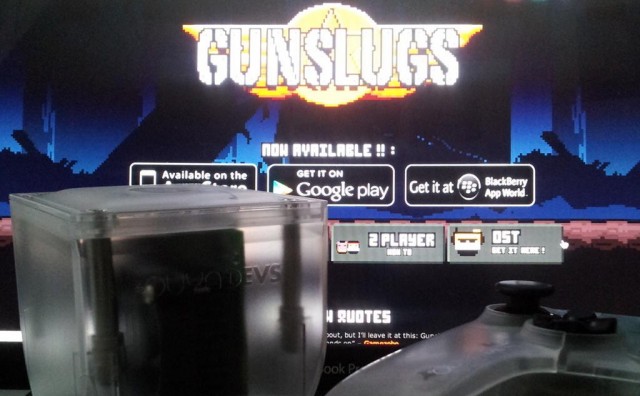 There is a lot to be said about developing for the OUYA. This is one of the most enlightening interviews I've done and after you read I hope you'll email your favorite Android and iOS developers and tell them how easily they too can make their mobile game into a "console" game on OUYA. Take a look at our discussion below…
---

Q: Can you tell us a little bit about the game(s) OrangePixel plans to bring to OUYA?
Pascal: We plan to bring most of our "retro" games to the Ouya, but are looking at it on a case by case basis. Not every game transfers great to a big screen console ;) We do have a few games already certain and those are: Gunslugs, Meganoid2, Chrono&Cash, Neoteria and INC. Release dates are unknown but we aim to have them as close to the Ouya's release as possible.
Q: Will the OUYA version(s) have any unique modes or features?
Pascal: We do tweak and modify the games here and there to make them look and work good on the console and big screen, but it's mostly the same game except now with controllers!  We already have some changes planned for Meganoid2 and INC to make them look correctly, and we will probably higher the frame rate on a couple of our games to make them look even smoother.
Q: What swayed your decision to port Gunslugs over to OUYA?
Pascal: We planned an Ouya version for Gunslugs the moment we read about the Ouya. The whole 2-player coop mode was designed with the console in mind, so it was basically a no-brainer from the moment the console was funded ;)
Q: How difficult was it to take existing code and get it running on the ODK?
Pascal: Not hard at all, we use our own framework and libraries so it was just a few minutes to get things up and running and then a couple of hours to drag us away from playing the games on the Ouya!
Q: Having now gone through the steps to develop something for the publicly funded console, what are your thoughts about the OUYA's missions statement; to bring a completely open console quality development environment to developers?
Pascal: I love it, we can just hook up our laptop to the console, run a new version of our game code, make changes and invite friends to come play our "console game"!  It's literally like developing for any other mobile phone or hardware, all consoles should be this simple.
Q: In general, what is next for OrangePixel games and will it include OUYA?
Pascal: We will make sure all our future games run on the Ouya, even if it would end up with a small market share it would still be cool to have our own games running on a console ;) and the extra effort required is so minimal that it would be silly to ignore it.   Game wise we got some cool ideas bouncing around, but nothing solid yet!  Just keep an eye on our twitter.com/orangepixel or facebook.com/orangepixel pages to see what we are cooking ;)
Thank you to Pascal for taking the time to answer my questions. And thanks to OrangePixel for the awesome games and frequent updates on mobile. Tell us your thoughts about OUYA and if you plan to buy the tiny home Android-powered console in the comments below.