Goozex.com is a video game and movie trading website that deals in new and retro games for PlayStation, Xbox, Nintendo, Sega, etc. I recently had the pleasure of speaking with Goozex CEO JP McCormick on matters related to the recent lull in active trades facing Goozex.com. We discussed business and what his plans are for the future of the site.
Holiday 2012 and even running right now we saw two promotions attempt to get traders (informally known as Goozers on the site) trading again. Not just that, but there have been some significant changes made to the site. JP says "we do believe the changes we have implemented so far are having a positive impact on Goozex."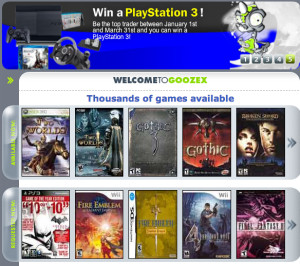 Changes such as raising the point cap for games and movies, lowering trade token prices by 50% for all ($0.50 for Feedback 500 members), creating a three-tiered token system as an incentive to acquire lower priced games and movies. "We are slowly seeing the Trade activity going up as members regain confidence into the system," says JP.
There are a lot of people with Holds on games, hanging on to points, and not letting go of their games. All this stems from most Goozers' fear of the future of the site, and allowing members to buy shipping with tokens. This should all change with what JP and his management team are preparing to deploy as early as 1-2 weeks from this writing. Take a look at a few early changes that should add quite a few more reasons to use Goozex (roll out will be in the order they appear below):
Goozex Exchange returning as a bid system.  Goozex will list items on the Exchange for a minimal starting price.  Members then bid their points to acquire the item.  Highest bidder wins the item.  This will result in clearing out some of the excess points in the system while allowing members to set the price they want to pay for a particular item.  This will also provide another mechanism for members to use their points for purchases.

Providing users with the ability to sell their points to Goozex and to other members.  This will redistribute points throughout the system without adding more points to the economy.  This will also provide a means for members to convert their points into cash.

Adding more categories for trade.  At first Goozex will enable users to trade gaming accessories and gaming consoles.  This will expand the use of points for members.  We believe that knowing they can convert their points to cash will provide more incentive for members to start trading these higher end items on Goozex.

Once all these changes are in place Goozex will launch a large marketing campaign to bring in more users to the member base. This should stimulate more trading and get the queues moving again.
More plans are in the works, but JP is holding tightly onto these until they are ready for a public reveal. Cash for points sounds like a solid addition to the Goozex system. Hardware and accessories are something I definitely have to trade. What do you Goozers think of the list of features coming soon to Goozex?