If you're a fan of old school beatem up games like Double Dragon and Renegade: take note. If you're a fan of collectible trading cards, especially in the genre of Garbage Pail Kids: take an additional note. Coming soon is a game called Fist Puncher that combines the best of old school beatem up gameplay and graphics with the smooth fluidity and awesomeness of modern gaming. Plus a few fun twists.
The story line revolves around Dr. Karate, a vigilante leader who is also a neurosurgeon and blackbelt among other things. That variety of skills comes in handy as they hunt down evil crime bosses on whom they perform unnecessary surgery. Yowch.
The game is a local multi-player title with support for up to 4 players. You can choose from among 15 characters and the game includes 15 levels. The team has added some enjoyable options such as friendly fire allowance along with various secrets and easter eggs along the way. As you beat levels and move along the map, you're also able to earn new moves and powerups, giving you a better chance of defeating your foes. Any fan of classic beatem up games will be immediately stunned by how true the developers are to the design conventions and concepts of this classic genre while mixing in a fresh flavor of new school.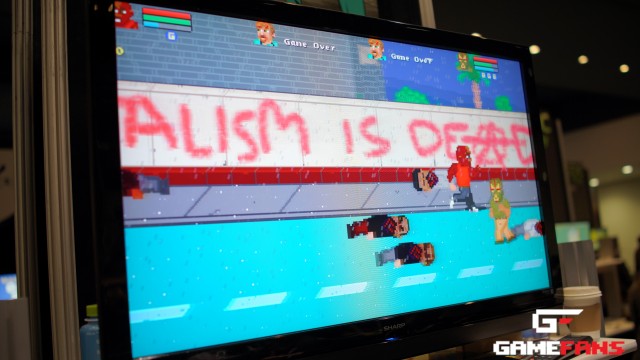 Take the "special moves" for example. Each character has their own special capabilities and moves, making choosing your go-to-guy a lot of fun and offering the game a deeper level of personality. One character is a mobster who packs a pistol. Another is a chick who can kiss her opponents, seducing them into temporarily fighting on her side. Another can unleash a hoard of bees on enemies. The list goes on and on, adding to the charm of Fist Puncher (if a game about bashing in people's faces can have such a thing).
Then there are the achievements, perhaps my favorite tie-in. Accomplishing certain feats will unlock trading cards to put into their achievements collection. There are 100 different achievements and trading cards, with a few of them shown below. It's one thing to collect a Derek Jeter card that increases your clutch stat in a baseball game. Or an Adrian Peterson card that ups your broken tackle stats in a football game. That's typical, straight forward stuff.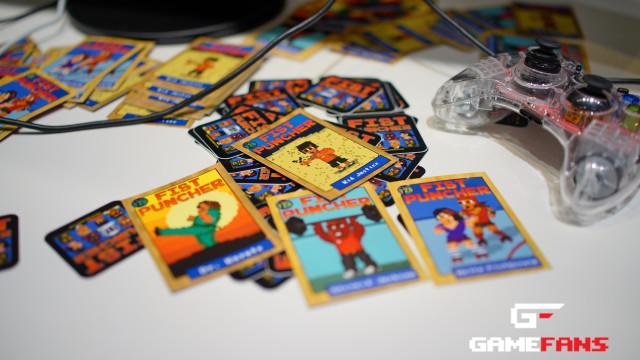 Fist Puncher's cards are reminiscent of Garbage Pail Kids: a wacky character with a catchy, pushing the envelope name, wrapped up in a 1987 Topps Baseball card looking package, complete with the 8-bit graphic look. The back of my favorite card – "Steroid Jackson" – reads:
"A pumped up, disgraced athlete looking to clean up the streets and repair his tattered image.

Fist Puncher follows a team of vigilantes fighting their way through the streets of a lawless city. Coming soon to Xbox Live Indie Games."
The game will launch as a PC title with multi-player support for up to four people, coming soon to XBOX Live Indie Games. While the developers, Team2Bit, are launching Fist Puncher as a PC only release to start, OUYAboards spoke directly with the developers who demonstrated a serious interest in launching for OUYA. They've already announced that their next title will be a multi-platform possibly coming to the OUYA and they shared an interest in launching Fist Puncher for OUYA as well. In actuality, Fist Puncher would be the perfect OUYA game, and we're hoping you share your support for the developers to bring this game to the OUYA console!
We couldn't be more excited for Fist Puncher to see the light of day. Check out the trailer for Fist Puncher on Steam, below: