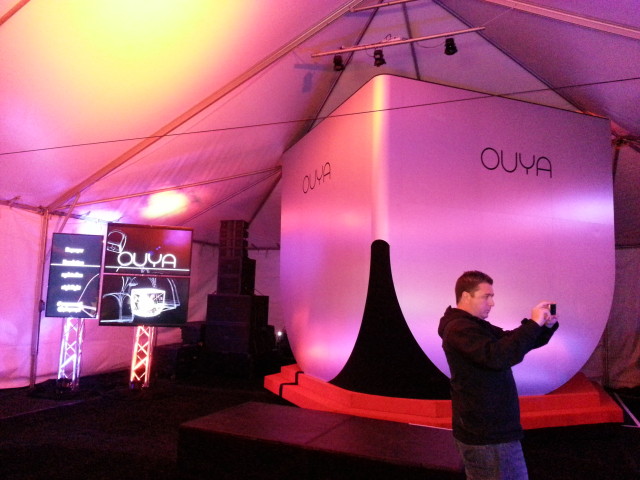 Last night, myself, Rob Jackson and Chris Chavez from Phandroid hung out at the OUYA Unveiling party in San Francisco. While people walked around with the GDC lanyards still around their necks, we three paraded the party having a good time celebrating the official release of the OUYA first run units to its backers.
I arrived shortly after 8pm, the official start time of the event, and snapped some pictures of the line and the view of the party grounds from the street. It only took about 15 minutes or so to get inside with a nifty OUYA wristband and lofty hopes of meeting some like mind gamers. What I found was mostly developers at this unveiling, and that's maybe the way it should have been.
Although, the event was opened to the public apparently as there was a separate line for media backers and a line for everyone else. But once inside, everyone was on the same plane, gulping down drinks from the open bars and snacking on the three open food trucks just outside.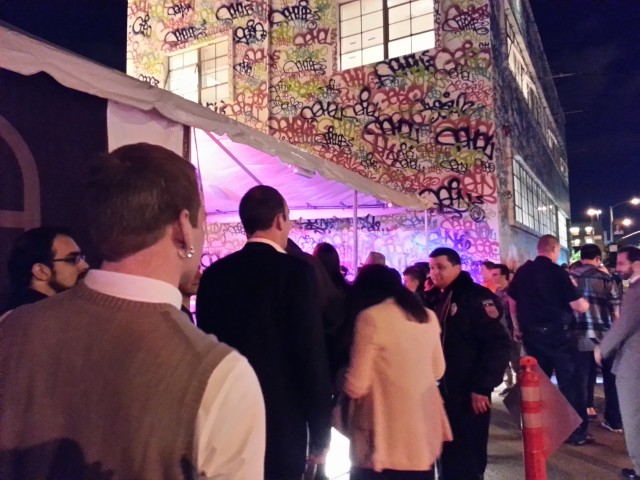 What disappointed me the most was the lack of OUYA hands-on kiosks. There were only three tvs equipped to entertain the guests. There was a DJ on hand,  but as typical of a party dominated by males, no one was really cutting and rug on the dance floor. The OUYA systems on display were the final release models given out to the high backers (including GameFans and Phandroid). Every OUYA has access to the store front where every game is free with some sort of limitation forcing gamers to upgrade to the paid version.
We were able to sweet talk our way into the back room before everyone else, where Chris and Rob took some really nice pics of the controller and OUYA console. But once Julie Uhrman hit the stage to announce the OUYA and say a final "thank you" to all the backers, the big door was pushed open and everyone invaded that back display area.

I spoke to one guy who said that he had never heard or seen the OUYA until that night, and the only reason he was there was because his friend and company at the OUYA unveiling worked next door. OUYA's future is an uncertain one with the Android ecosystem constantly changing, hardware and controller concerns, and competition coming from nearly every angle.
Do you share our excitement or are you "on the fence?" Let me know in the comments section below and look forward to an onslaught of hands-on video demos of OUYA games started this week on GameFans.