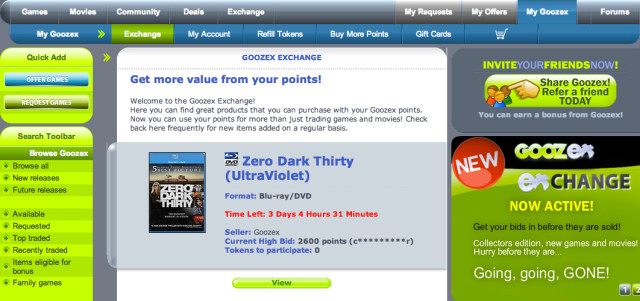 Goozex, the internet video game trading website that gives you more than brick and mortar, has launched their Exchange tab this past week. Exchange gives Goozers the ability to spend there allotment of Goozex points on new games in an auction setting. I've had the opportunity to not only check out the digs, but also to place a bid.
First of all, what is Goozex Exchange and how does it work? Ironically, "exchange" is the best way to decscribe Goozex in general. When I think about "trading", I think about a straight swap between two people. Goozex is a little bit different in that you aren't swapping your game for someone else's game, instead they are buying it from you with points.
The Exchange allows you to use those points toward specific items in an auction environment. Games available so far have been recent releases like the God of War Ascension Collector's Edition, or recent success like Mass Effect 3. Members can bid on various games for PS3, Xbox 360, Vita, 3DS, Wii U, and PC as well as Blu-ray movies like the recent 007 film.
How it works is that you are charged one or more tokens to bid as many times as you want on any one particular item. Some items will not charge a token, like some Blu-ray movies. The item I bid on started with a 3 token price, but has recently been reduced to 1 token, and I was refunded appropriately. Which proves the system is being monitored regularly.
Once I bid on the item, which happened to be Ninja Gaiden Sigma Plus 2 for Vita, you are given the choice of how high you'd like to bid. Anyone familiar with ebay will know how this all works. If you bid the next lowest amount, you may immediately be outbid thanks to the autobid system. Autobidding is when the most recently bidder sets the highest big much higher than the current bid. That way if someone like me comes along and bids a tiny amount more, his autobid will outbid me repeatedly until his max autobid is tapped out, then a new highest bidder may prevail.
Every auctioned item has a timer starting around 5 days or less. Once the timer runs up, the bidding wars may continue until the last bid rests for 15 minutes, then the bid is won and the auction for that item ends. If I happen to win Ninja Gaiden Sigma Plus 2, the points will immediately be deducted from my account and the game will be shipped to the address in the system.
So far, my experience has been smooth and it's clear that Goozex has done their proper testing while the Exchange went through beta. I encourage anyone currently sitting on a boatload of Goozex points to exhaust them on the Exchange and get a new game or collector's edition out of the deal. It's not cheap when you do the math, but as of now there just aren't that many games being offered by members.
[via Goozex Exchange]