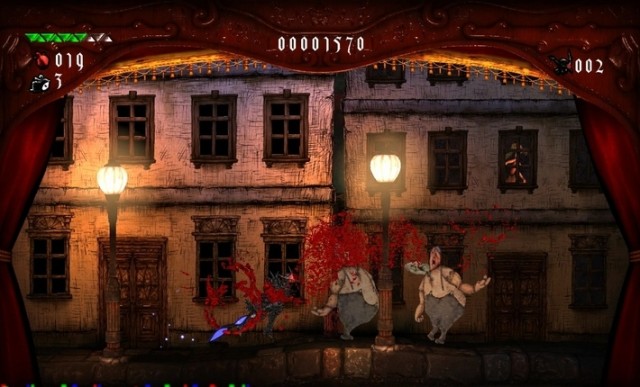 Black Knight Sword, one of the most bizarre side-scrolling hack'n slash adventure games I've ever played, will be on sale saving XBLA gamers 50% off the normal price. The game was created by many great minds including SUDA51, Grasshopper Manufacturer and Digital Reality. Beginning tomorrow, April 16th and ending April 23rd, everyone can experience Black Knight Sword for just 400 Microsoft Points.
With those forces behind the wheel, forces that previously created quality games like No More Heroes and Sine Mora, is no wonder such a quirky game like Black Knight Sword is so polished. The presentation is reminiscent of a puppet show complete with a red curtain on the sides of the screen and modular set pieces that reposition when transitioning from one level to the next. All created with a dark and sinister, yet charming papercraft world.
The action is straight forward yet deep, with just a simple sword attack and combo as well as a few magical tricks up the sleeve. The protagonist commandeers the powers of the Black Knight armor and sword before hacking up the game's twisted enemies. Enemies that appear to be giant heads with legs or wings, creepy overweight guys with projectile attacks and overalls, and enormous bosses with a penchant for squishing out our hero.
To make the entire game all the more interesting, a classy and sophisticated English narration is provided to provide a layer of snarky wit the game otherwise would not possess. With a classic play style that appeal to any gamer, but the blood and gore meant only for a mature audience, I can't help but cautiously recommend Black Knight Sword to anyone who has read this far. The press release announcing the sale makes no mention of the game being discounted on PSN, so for the time look for the sale to kick off tomorrow on XBLA only.