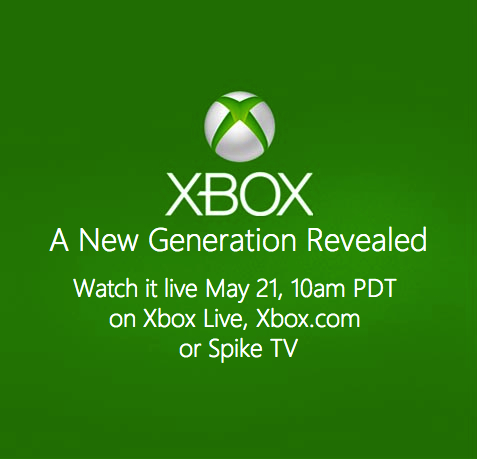 Xbox Live's Major Nelson, the personification of Xbox announcements, recently posted news and a handy countdown clock announcing the date everyone will once and for all learn what Microsoft has in store for the next generation of Xbox. Mark your calendars for May 21st, as the announcement will come from the Xbox campus in Redmond, WA and be streamed through Xbox Live and at Xbox.com.
What we can expect is a lot of concrete information finally squashing all the rumors and speculation about the next Xbox. That list has grown to fatal lengths, and yes, this announcement could have come a little sooner. But with Sony having sheltered the minor detail about what the PS4 actually looks like, the biggest question is whether or not the next Xbox/Xbox 720 will show itself on this day or be saved for E3.
Major Nelson does make sure to carefully point out that not all details will be revealed on May 21st. In fact, the left overs including the full lineup of games will be warmed up and shared around the E3 2013 dinner table this June and we will be there to share all the fixings with you. This news comes at the same time as we hear that Nintendo will not hold an E3 press conference. Whether or not this is a good strategy will remain to be seen, but our friends at WiiUDaily have put together a juicy article discussing the current state of Wii U.
It will be interesting to see where their most popular franchises will take gamers in the future of gaming consoles and how Microsoft will counter some of the praise Sony is receiving with the PS4. Which juicy Xbox Next/720 rumors do you think are top priority for Microsoft and the Xbox team to reveal on May 21st?
[via Xbox Live's Major Nelson]