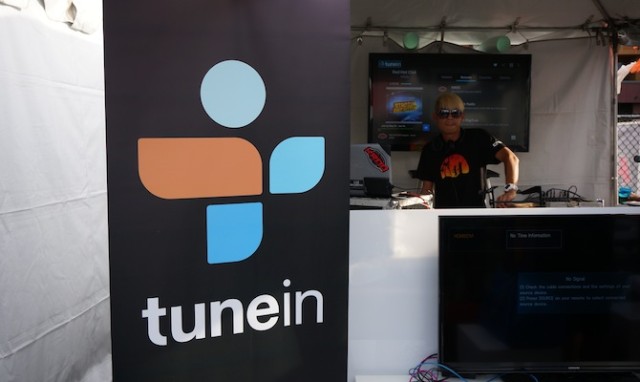 After a day of walking around the E3 2013 showroom floor and attending meetings spanning the lengths of the LA Convention Center, it was time to unwind in a parking lot across the street. But this wasn't just any car-laden parking lot, it was inhabited by OUYA in what turned out to be a successful showing of their retail boxed OUYA Android powered gaming console.
There was a DJ, beer on tap flowing freely (literally), and Tune-In Radio was right there next to them. I took a moment to talk with Ben Nicholson, Business Development Manager, about their future plans on OUYA. And what he said was they have been working on a 10-foot version of their OUYA app that is based on the current Android tablet version.
The goal is to bridge the gap between the two and offer OUYA users a familiar and superior interface and overall experience. The Tune-In Radio team were there giving out t-shirts to the crowd and sponsoring the theatrics with an on-site DJ.
Tune-In is based out of Palo Alto, California in the middle of silicon valley and a place I once lived. It is a place where great minds come up with great ideas and come together to deploy great products and services. If you have never heard of Tune-In Radio, then I encourage you to visit their website and download the app on iOS or Android. It's also on OUYA if you have one.